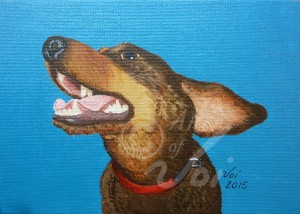 Reference photos. If you live within the Austin metroplex, I am available to take reference photos of your pet. I really enjoy getting to know the pet, seeing his or her personality and how they interact with you. Otherwise, you can send me LOTS of photos of your pet. I often use one photo for the reference pose and others for details and colors. Please do not apply any filters to the photos. Photos in which a flash was used are usually not as good as reference photos.
The process:
How to commission a portrait:
1. Decide the size you want.
2. Decide the medium you want (watercolor or acrylic).
3. Submit your photos. I will let you know if additional photos are needed.
4. At this point, I will want to speak with you or converse by email regarding the portrait.
5. Submit a deposit (non-refundable, 1/2 of the purchase price). I will do a sketch and email you a "proof". Once you approve the proof, I will begin the painting.
6. I will email you updates on the progression (if you wish). Small adjustments might be possible at the beginning, but after a certain point, depending on the medium, no changes will be possible.
7. I will email you a jpg file of the finished painting. The remaining balance is to be paid before shipping or local pick up.
8. If desired, I can arrange framing through a local company that does very high quality archival work and the price will be added to your balance.
9. If applicable, Texas tax of 8.25% is added to the price of the painting.
Rates:
Watercolor, head shot, simple background, one subject/two/three: 5 x 7 = $135/200, 8 x 10 = $225/300/375, 11 x 14 = $325/400/475
Acrylic, head shot, simple background, one subject/two/three: 5 x 7 = $125/150, 8 x 10 = $175/225/275, 11 x 14 = $300/350/400, 16 x 20 = $450/500/550, 18 x 24 = $550/600/650
Watercolor is done on 100% acid free rag or cotton high quality watercolor paper (there is generally 0.5 to 3.0 inches of white paper beyond the image to allow for framing). Acrylic is done on quality stretched canvas or canvas panel. All my artwork is done with great care to detail and quality and may take several weeks to complete. Please keep this in mind if you are planning on giving a portrait as a gift for a birthday or anniversary, so we can time it to be ready in time for the special day. I would love to create your fine art pet portrait.
All artworks © Joi Holcomb and may not be used, distributed, reproduced or copied in any way without strict permission from the artist